Originally I was going to entitle this installment "Get Thee Back, Sorrow" a line from a poem titled "Youth and Sorrow" I just recently read in The Poets of the Nineteenth Century (1878), but decided to scrap it. At the time I thought it an appropriate title for the latest in my series of curious curios concerning the always charming witch ball. As with any informative post I make I do perform the necessary amount of research; sadly upon doing on this specific topic I came up with very little useful information. A bulk of it being rather inaccurate—a conflation really of various similar curiosities, which would ultimately confuse anybody with out prior familiarity. In any event what useful resource I could dig up was quite interesting and I just would love to share it with you.
As it is always best to begin at the beginning; one who is not acquainted with the term "witch ball" must wonder what one is, what one does, and where does one come from? The witch balls that I speak of are these wonderful objects made of glass. Typically they are seven inches (or eighteen centimeters) in diameter, yet they can be much larger. Historically they are silvered (reflective as a mirror) and produced in various colors sometimes decorated with elaborate swirling pattern. These orbs would be suspended in a corner of the home or a window. Their primary function was to prevent ill wish, misfortune, and malefic witchcraft by reflecting. Another theory proposed by the Museum of Witchcraft (Boscastle) asserts that "some believe that the glass ball will itself attract the influences of ill-luck and ill-wish that would otherwise have fallen upon the household." These types of glass balls within the museum's collection (museum nos.
939
,
1464
, and
1501
) were manufactured in England by the Nailsea glassmakers who were a group of glassmakers who established themselves southwest of Bristol in the year 1788.
In doing research I ran across a reference to witch balls being used as a speculum or "shew" stone; a device in which one sees the future, yet these glass balls should not be confused with those old exquisite glass floats used by fishermen, which has long since been replaced with their horrid plastic contemporaries. Glass fishing floats have a very special place within the areas such as the southwest of England. It was these float that have the uncanny ability to channel images; as noted by contemporary witchcraft matriarch Doreen Valiente.
A close relative (and in my opinion are a possible origin) of the witch ball are the reflective spherical glass gazing globs, which were originally hand blown in thirteenth-century Italy. Allegedly King Ludwig II of Bavaria (known as Mad King Ludwig; and a very dapper gentleman if you ask me) had taken a liking to these globs and adorned the ground of Herrenchiemsee Palace (also known as Neues Schloss or "New Palace"). Interestingly enough in the small town of Lauscha, Germany in the mid-nineteenth-century (circa 1847) glass artisans were created small decorative orbs for Christmas trees, i.e. the Christmas kugel. Of course Ludwig's reign lasted from 1864 to 1886 so the dates do not match and English witch balls predate the kugel by approximately fifty year or so.
The Imperial Dictionary (the basis of Webster's English Dictionary) lists an entry for "witch ball" but defines it as "a name given to interwoven roller-like masses of stems of herbaceous plants." This sort of witch ball is nothing new in The Historical Magazine (1870, vol. 17-16, p. 57-8) collected a story titled, "'Wooballs,' 'Hairballs' and 'Witchballs'" that talks about a bewitched calf who upon being eviscerated was found a ball of hair implanted by a witch. These type of ball made of hair appear many times in literature of the period. Of course a hairball is a far cry from a one wrote of plant matter, however, the intent seems to remain the same.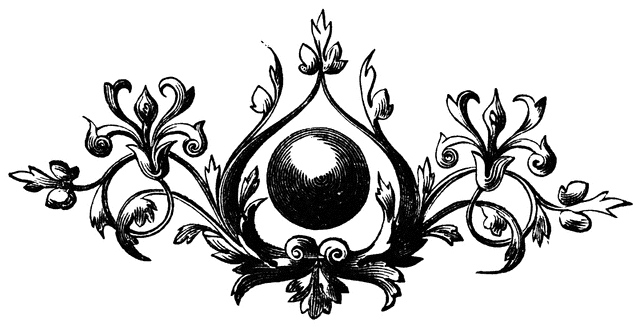 Glass witch balls are produced today by many glassblowing artisans; always remember it is best to keep them polished for effectiveness.